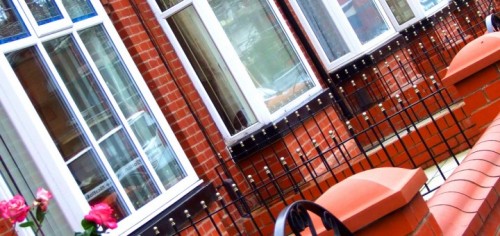 There are basically two different types of mortgages, a conventional and government insured loans such as a VA, an FHA or Fannie Mae. Within the two there are other variables to consider. For instance, how long you want to own the home. If it's a starter home and you are planning on a family an adjustable rate might offer the best fit. Since they start out with smaller payments, your monthly premium would be less. On the other hand, if you're retiring and looking to settle down for the long run, a fixed rate mortgage will keep your monthly payments at a set amount. It's always best to work with a company like Flagship Financial Group so that you know your options.
The conventional mortgage has no backing from the government. In the event that you default on your payment, the lender takes the financial loss. Because of this, it's also the most difficult to get an approval. The bank takes into consideration your income, credit score and debt-to-income ratio. They also prefer at least 20 percent down. If your credit worthiness warrants they will accept a lesser amount but it comes with a price tag. On any loan approved with a down payment of less than 20 percent, they impose P.M.I. insurance. This gives the bank more monies in the event you are unable to pay the mortgage. The P.M.I. insurance remains on the loan, increasing your monthly payment by hundreds. until you fall below the 20 percent. If you have a credit score of 720 or higher and are able to put down 20 percent, you will benefit with a lower interest rate vs. a government-backed loan. Another plus is that you can sell your home at any time without stipulations.
An FHA or Fannie Mae loan benefits those who may have less than perfect credit or only a small amount to put down on a home. Unlike a conventional loan that requires a 20 percent down payment, with these loans, you can put as little as 3.5 percent down. You will still pay mortgage insurance until you reduce the loan to the 20 percent. Also, since the government backs it, the closing costs are less. With an FHA and Fannie Mae, you also have the option of including the closing fees in the mortgage. Another benefit of this loan is that lenders place less emphasis on your credit score. So if you have less than ideal credit your chances are better for an approval. You will need a 580 credit score, reliable income and show timely payments within the last 12 months.
For anyone who is serving or retired from the military, a VA loan gives you the best advantages to buying a home. Companies such as Flagship Financial have the knowledge to assist you with the paperwork and process. Since this loan has a guarantee for repayment through the U.S. government, you do not need a down payment to qualify. Also, there is no P.M.I. insurance. This alone will save you thousands. There are less closing costs allowed and no cap on what you can borrow. It's also not based entirely on a credit score but rather your ability to repay the loan. This makes qualifying a much easier process.
Each mortgage type offers both pros and cons. With some, you need a larger down payment, while others offer a lower interest rate. It's best for you to weigh the different benefits and requirements of mortgages and then decide on which program is the best fit for you.