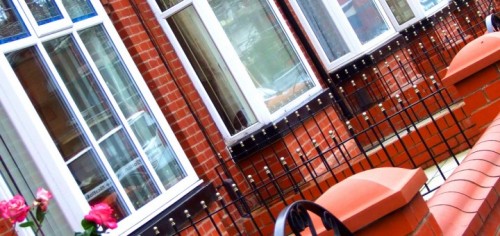 You may think that background checks on prospective tenants are optional, but if you are an investor, landlord or property manager deciding about a prospect, you could learn the hard way that this is essential to doing business safely and efficiently. In an age of mobility and the ease of pretending to be what you're not, investing a little money upfront for a proper background check before renting out your property to a stranger is always justifiable to protect your assets.
If you're running the check yourself, be aware that screening tenants can involve complex legal restraints, differing by state. Be sure that you are up to date on housing laws before you even begin screening applicants. Investigate your particular state's housing laws so that you are educated on what you can and cannot ask during the tenant screening process.
Do your research on the most recent fair housing laws to find out what you can and cannot ask while screening applicants for your property. Also decide how much income-to-rent you feel comfortable with for potential tenants. If they're financially strapped, your asset performance will suffer if they fall behind in rent.
You may decide to use a professional service to run your background checks. A standard background check can look into the following areas: criminal record, employment history, educational background, a history of late payments and/or evictions, credit history, motor vehicle and license check, and sometimes even phone and email verification.
Whether you spend $25 or $100, a proper background check goes a long way to making sure that you are making wise decisions when it comes to your leasing practices. Another advantage is that companies that provide background checks will deal with the applicant directly so that you don't have to until they have passed the preliminary check. This too can save you time and money.
To choose the right tenant screening service for your needs, consider some of these criteria:
— Compared to the value of your rental, the screening is a modest cost. Still you wan to know your options – can you select specific checks or does the service charge one price for its standard offering?
— Residence and eviction. You probably want addresses and time periods of a tenant's residence history? Past eviction records of course are valuable to check.
— The employment and income of your tenant is obviously important to know for the reliability of rent payments. Consider if the screening service will verify a prospective tenant's employment history, as well as current income.
— Does the service offer criminal background checks? You may want check any history of past convictions, not only in your state but other states as well.
— Customer service. Does the screening service offer support online and with email and telephone? What hours are the support features available?
— Public reviews are the gold standard now for authentic service, so you want to check their reviews to see what their customers think of them. How well do landlords feel the service has helped them?
Be sure to verify that whatever company you use fully complies with the Fair Housing Act as set out by the U.S. Department of Justice, Civil Rights Division, so that you don't discriminate when making your renting decisions.
One well known company that provides comprehensive background checks on tenants is Landlord Station, a cloud-based property management software company based in Dallas, Texas. Owner Copley Broer advises: "Your property is yours to protect in every sense of the word, so anything you can do to make sure it's in good hands is worth it."
An online background check can be straightforward and affordable depending on the complexity of the report you are wanting. Landlords and property investment professionals all over the country conduct routine tenant screening through Landlord Station or similar businesses. A background check of any kind is better than none when it comes to renting your property to the best tenant.