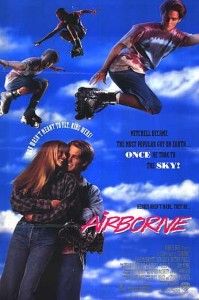 If "unfriend" is the term of the year by Webster's dictionary, "frugality" would win the award from the personal finance community.  It has been talked about and discussed regarding the many ways individuals can save.  Living a frugal life can also help someone outside of just finances.  By savings more money or reducing debt you can live a more stress free life feeling secure about your finances.
The problem with talking about frugality so often is that spending money is often looked at as the devil and a huge negative, almost like you are doing something wrong.  In some cases that could be true, but spending money under the right circumstances can be fun and worth it.  Even spending money under the wrong circumstances can be worthwhile sometimes.
I recently spent $40 on the DVD of the movie Airborne and could not be more happy about the purchase.  This is extremely overpriced and for a DVD most have never heard of before, but I have no buyers remorse at all.
The movie which came out in 1993 about a California surfer dude who moves to  Cincinnati for 6 months to live with his cousin, has been a staple of my childhood and one of my favorite movies of all time.  It's the type of movie that I have watched a good hundred times in my life and probably will easily double that at some point.  But after I lost the VHS tape years back and the technology has been obsolete for almost a decade now, I was not able to watch it unless I happened to catch it on HBO.  Ever since, I have always wanted the movie on DVD but it was never released.  After years of searching, I finally found a discontinued copy for sale on ebay for $40.  that's right.  I didn't even hesitate despite the ridiculous price.
Now I  own the movie which for me is more than just a movie, but a time portal into the past of my childhood.  One that I enjoyed.  Despite being an adult now and having a job, bills, and a future to look to which at times all can be stressful, it's nice to sometimes sit back and relive the younger years.  This may be a movie I could only play once a year, but seeing it on my DVD shelf will put a smile on my face everyday.  And for that, it was worth the expensive price and I do not regret it at all.
Has there ever been an item you may have bought even though you know you overpaid for it?