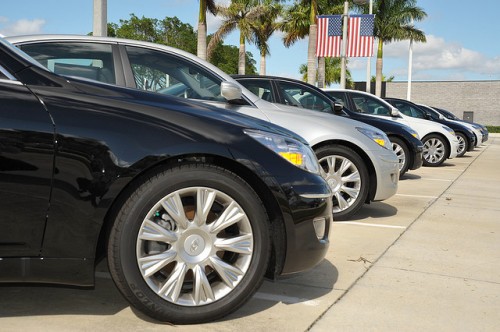 If you think luxury and budget can't occupy the same sentence when it comes to purchasing a German engineered and manufactured sedan, think again. According to Autoweek, a seemingly brand new German luxury sedan that's been sitting in the lot of your favorite auto dealership far longer than the sales people are comfortable with, can be had for a fraction of its original asking price. That would be your very good luck. But on the other hand, you could shell out for a used or formerly leased German sedan and end up staring at your overdrawn bank account while your car takes up precious space in the garage awaiting components that can only be bought and shipped from the Motherland.
Of course, there's a lesson to be learned in all of this. If you're purchasing a relatively affordable German Luxury sedan like an Audi, for instance, it pays in spades to invest in an Audi extended warranty. According to Olive, the extended warranty experts, Audi is known for its advanced engineering, and it is currently one of the best vehicles on the market. However, no matter how well built your sedan, there's bound to be costly mechanical breakdown of some kind eventually. Some of these repairs won't be covered by the standard manufacturer's warranty. That's why it's a good idea to look into an extended warranty for the life of your luxury sedan.
But what other German luxury sedans can you purchase for $20,000 or even less? Here's five that might fit your need for comfort, reliability, and affordability.
2008-2015 BMW 7-Series
Listed just below $20,000, this beautifully depreciated luxury sedan in the 7-series is said to contain a plush interior, a powerful engine, and sporty European good looks. Says Autoweek, this model is remembered best for its having dialed down the Flame Surfacing design of its predecessor. It also offers more drivability than the smaller 5-series. A $20K budget means there's plenty of 7-series buying opportunities our there for second and third generation buyers.
2008-2014/2015-2020 Mercedes-Benz C-Class
The C-Class Mercedes-Benz Luxury Sedan is said to be a boon for the famous German manufacturer. A $20K budget means there's plenty to look at with the W204 generation which spanned 2008 to 2014, and also the newer 2015-2020 model. Posher than older generations and also offering a better, more powerful ride, the Class-C's low budget still allows for W205 in C300 4Matic styles. Many formerly leased C-Class luxury sedans have been sold off the lots in the Northern United States alone, in tip-top condition.
2016-2020 Audi A4
The Audi has always taken up the rear when it comes to the more popular Mercedes-Benz and the BMW. But lately, the luxury and speedy Audi is seeing a surge in popularity among German auto engineering enthusiasts. So what will $20,000 purchase? Models even with 50K miles on them, whether previously owned or leased, are said to be a powerhouse buy. Powered by a 2.0 liter fours engine backed up with quattro all-wheel drive, the Audi just might take first place when it comes to affordable German Luxury cars for budget conscious buyers. Just make sure to play it safe by purchasing an extended warranty along with it.
2014-2019 Mercedes-Benz CLA-Class
The classic Mercedes-Benz makes another appearance on the list, this time in the reliable, and affordable 2014-2019 CLA-Class. This model was engineered and priced to be your entry into the Mercedes-Benz German Luxury sedan family. Many pre-owned and formerly leased models from the 2010s are still available for well under the $20K budget. Powered by a 2.0 liter turbocharged four-cylinder engine, the CLA-Class runs a little small, but it's not the size of the ride that counts. It's the amount of power and luxury in the ride that counts.
2008-2017 Volkswagen CC
This list would be remiss if it didn't include one of the more left field picks for German luxury sedans. The Volkswagen, which was originally engineered to be the "people's car," when it was first manufactured decades ago, achieved luxury status with its niche CC Class. A class above the Passat, it's outfitted with a plush interior, a sporty design, and a more than adequate powered turbocharged 2.0-liter inline four engine. A large number of these are still available, and many of them with relatively low mileage. Most go for around $15K. One caveat. An extended warranty is definitely recommended when purchasing any pre-owned Volkswagen, along with maintenance records.
If you've always dreamed of riding the roads in a German luxury car, but your budget isn't exactly the- sky's-the-limit, you can find great deals on pre-owned and off-lease models. These are models that are so well built, they hold their value for years and years. Just remember to insist upon access to maintenance records prior to purchasing the car. Also, you should seriously consider investing in an extended warranty. Remember, even the best engineered cars eventually break down.