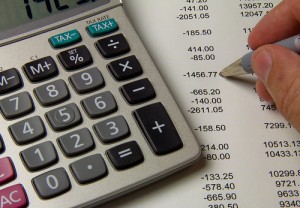 Financial experts recommend at least a three to six month cash reserve. This creates a nice safety net if you're ever laid off from work or experience another emergency. If you have less than this amount in the bank, you've got some work to do.
Understandably, growing your savings account isn't always easy. Different factors can stand in your way. For example, your paycheck may just be enough to cover living expenses, making it harder to create a rainy day fund.
But don't automatically push saving to the side. Several measures can get your account off the ground.
1. Shop around for the best savings account rate
You can open a savings account with your local bank. Understand, however, that your local bank may not offer the best rate. To grow your account faster, you need the highest return on your deposits. An online savings account might be your best bet. Take a Discover Bank online savings account for example. With these savings accounts you can earn 0.80% APY, about five times the national savings average.
2. Choose interest checking
However, a savings account isn't the only way to grow your money. If you maintain a large daily balance in your checking account, look for checking accounts that earn interest.
3. Open a certificate of deposit
These time deposits are another tool for getting your savings account off the ground. And unlike a regular savings account, it's easier to save with a Certificate of Deposit because the cash isn't readily available for withdrawal. The minimum to open a CD varies by bank, but you can usually open an account with as little as $50-$100. Additionally, you can select a term between seven days and five years.
4. Pay yourself consistently
If you want to grow your savings account, you have to pay yourself first. I know, this is hard when you have a lot of bills. But if you don't feed your savings account, you'll never build a comfortable safety net. Each paycheck, plan to set aside at least 10% of your pay.
5. Don't carry a debit card
Just because your bank issues a debit card doesn't mean you have to use or carry the card. Once your debit card arrives in the mail, store it in a safe place, perhaps a locked drawer in your home. I will not suggest that you should never use your debit card. But at least with the card out of your wallet, you're less likely to withdraw cash or shop impulsively, which helps grow your savings.
6. Automate your savings account
If you're bad about depositing money into your savings account, consider ways to automate your savings. For example, you can set up automatic transfers and move a certain dollar amount from your checking into your savings account each pay period. Additionally, you can look into other savings options, such as opening a 401(k) with your employer. This is an excellent way to jumpstart your retirement savings. The money is taken directly out of your check.
7. Don't squander tax refunds and bonuses
If you get your hands on so-called free money, you could plan a vacation or go on a shopping spree. However, there are better uses for this money. If tax refunds and work bonuses are the norm for you, putting a large percentage of this cash into savings can grow your account faster, which is a major plus if you don't have a lot of disposable income.
8. Don't dip into your savings account
Your rainy day fund is just that – a rainy day fund. If you're planning for other goals, such as saving for your kid's college education or planning a fabulous vacation, start a separate account. Understandably, this takes a lot of self-discipline. If you check your regular or online savings account balance and see three or four zeros, you may be tempted to go on shopping spree's and buy things that you don't need. It's okay to treat yourself, but moderation is key. The last thing you want to do is blow your savings account, and then run into a financial hardship.
9. Pay off debt
Maybe you simply don't have enough cash to grow your savings account. Whether you're dealing with credit card balances or high loan payments, develop a strategy to pay down your debts. This will free up cash, giving you the opportunity to increase your personal savings account.
On the other hand, if your lifestyle is too extravagant for saving, maybe it's time to look into cheaper housing or perhaps trade in your car for a cheaper model. If you can save $300 a month, that's $3600 you can put into your bank account each year.
Don't view savings accounts as optional. They are a necessity. Maybe you don't realize the importance today, but if you ever face a financial emergency, a rainy day fund can keep your head above water.