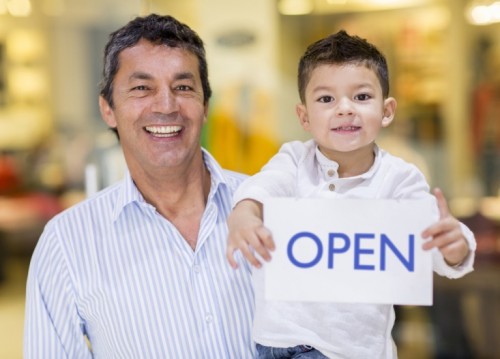 Starting and running a business is a huge bucket list item for many people.  Not only is it incredibly rewarding—you get to see and experience the direct benefits of your labor—but it also offers a much greater level of freedom and flexibility in how you do your work. And we haven't even discussed how entrepreneurship can improve your earning potential.
However, for many people, launching a business remains out of reach because of the startup expense. Some reports have said that it costs around $30,000 to start a business, and few of us have this kind of cash just lying around. But this research is out of date, and it's also a gross misrepresentation. There are lots of types of business, and each one has different startup requirements.
The truth is that you can start a business for less than $500. But to do this, you need to be smart about what type of business you start and how you run it. So here are some things you should keep in mind if you're looking to get a business going on a tight budget.
Pick The Right Products
The first thing you need to do is make sure you're choosing products or services that are cheap to produce. While you might have an idea for an industry-upsetting app, the reality is that it will cost you way more than $500 to design it, develop it and market it, unless of course you're already a coding guru.
Here are some things you could sell that cost a bunch less to make but that can still produce pretty solid returns:
— Books and learning materials. People are always looking for ways to learn more. So if you have expertise in one particular area, write a book or put together some educational materials you can sell to people. You may have to give part of it away for free so that people will see you're for real, but once this happens you'll enjoy much better sales numbers.
— T-shirts, water bottles, phone cases, etc. are all really cheap to buy, especially if you do so in wholesale from sites such as alibaba.com. You can then turn around and sell these at huge margins. But for this to work, you need to create something truly unique, so let's hope you're a talented artist.
— Consulting/coaching. The other thing to do is not offer a product at all but rather a service. And if that service is your time, then you really don't need to spend a penny to create what you're going to sell. You can meet with people in-person or via Skype and share your knowledge for a fee. It might sound strange, but people pay for personal coaches all the time. So why not get them to pay you?!
Dropshipping and Affiliate Marketing
One of the biggest expenses nearly every business faces is inventory. You need to have things on-hand for people to buy, otherwise where's the money coming from? And while there are lot's of ways to save money on your business inventory, the best way to keep this expense down is to have no inventory at all.
To do this, you'll need to set up a dropshipping business, or you'll need to make use of affiliate marketing, which are different variations on a similar idea. Essentially, dropshipping is where you let someone else handle your inventory. It's best when you have your own products but don't want to store them by yourself. And one of the best dropshipping sevices out there, is, you guessed it, Amazon.
But for those who aren't selling their own products, then another great option is affiliate marketing. In this arrangement, you basically just sell other people's products on their behalf. They provide you with links, and all you need to do is convince people to click. You make a commission for every referral, the amount of which will depend on your specific arrangement.
This is a great option because it allows you to sell established products that are easier to market without having to incur the inventory costs usually associated with this practice.
Run it From Home
Office space is another huge expense when running a business, and the solution for this when trying to get something started for less than $500 is to simply not rent office space at all. Instead, run your business out of your home. And if this business is your only place of work, depending on where you live you can potentially claim your home office as business expense, helping increase your savings even more.
If you're going to do run your business from your home, know that there are still going to be some expenses, and you need to work to reduce these to stay on budget. For example, you may need to buy some office equipment, but you can get used or second-hand equipment easily. Another expense is your internet connection, which you can save on by performing a search of the ISPs in your area. Increased competition means better value for consumers, so spend some time finding out where you can save.
Be Patient
Perhaps the single most important thing you can do when trying to launch a business for under $500 is be patient. While it's true that you can create a successful business with this amount of money, it's also true that it will take longer than if you had a bunch of seed money to invest in product development in marketing. But this is okay. Just take your time and stick to your budget, and pretty soon your dream of launching a business will become reality.