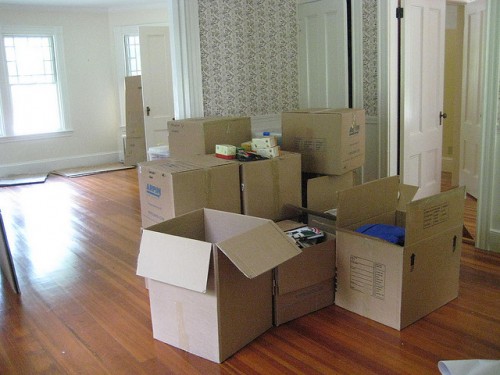 Moving is a complicated process. You have to find a new place to live. You have to figure out how to get everything you own from where you are now to where you are going to be. You have to uproot your kids and face the prospects of finding an entirely new social circle and support system. You have to figure out what is going to happen with and to your money.
The money part is probably the scariest of all (and this is a personal finance site), so let's talk about that.
Money Talk: The Move Itself
Before you pack even a single item, it's important to sit down and figure out a budget for your move. You'll want to include line items for things like rental deposits if you're renting, deposits for utility activations, packing materials, and of course the moving service itself. You need to do this early—as soon as you start thinking about moving. That way you'll have time to plan, search for deals, etc. It also gives you time to really sort through your home and figure out what you are taking and what you aren't. The Mayflower movers blog recommends having garage sales and getting rid of things you don't need (or that don't have sentimental value) as a way to reduce the weight and cost of your move.
Money Talk: Your Bank Account
Believe it or not, once upon a time you had to deposit your money and get cash out of your account by actually going into a bank and visiting a teller. This meant that you had to bank locally. Even if your bank was national, like Bank of America or Wells Fargo, when you moved, you needed to close your account at one branch and then open a new account at the branch in your new city. Today you don't have to do that anymore. Now that most banking is computerized, you can leave your bank account alone.
If you do decide that you want to change banks or switch from a traditional bank to a local credit union, here are some things that you will need to do.
1. Research all of the available banks and credit unions in your new city. Ask about rates and fees and then choose the checking and savings accounts that offer you the best of both. Never choose a bank based on location. Always choose a bank on the deal it offers to you.
2. Gather the proper documentation. You used to be able to walk in with a check and your Driver's License and get an account in less than an hour. Today you need proof of your current address, proof of your social security number and the standard photo ID. You will also need money to open the account. Most banks will not allow you to open an account with nothing. This money can be cash or it can be in the form of a check from your former bank.
3. Switch all of your automatic deposits and recurring payments to your new account. Try to do this before you get the notice of a missed payment.
Money Talk: Moving Retirement and Investment Accounts
This is where things stop being simple. Sometimes you can simply leave your IRA where it is and continue to make deposits online and via virtual transfers. If you are switching from one employer matched 401k to another, the process is trickier…especially if you don't have a new job lined up. According to How Stuff Works, many people roll their 401ks over into IRAs to help preserve the investment while they find new employment. Work with your bank, retirement advisor or investment advisor to help make sure that your investments and retirement accounts don't get hit when you move.
Remember: start preparing for all of this long before your moving day actually arrives. The more time you give yourself, the smoother your move will be.